BY XANDE ANDERER
Ah, the Army: home of the SNAFU, birthplace of Catch-22. We've all heard our share of absurdist tales about its slow-moving bureaucracies, restrictive red tape, and hurry-up-and-wait orders.
But this is not one of those tales. This is the story of an elite special-ops unit, liberated from that red tape—able to deploy at a moment's notice to wherever fighting broke out in Vietnam. A unit that did not need to wait for orders from on high to mobilize. One that was authorized to hop any chopper, bump anyone below a Colonel from an Air Force transport, or even resort to civilian transportation to get themselves to where the action was happening.
Unattached to any regular Army unit, they were ordered to "live off the economy" whenever possible. And like any other elite outfit, they arrived armed to the teeth with state-of-the-art equipment to carry out their mission—only in this case it was photographic equipment. This unit was D.A.S.P.O.—the Department of the Army Special Photographic Office—a special forces unit, of sorts, but one comprised of combat photographers.
This is the tale of how they were able to capture some of the most powerful and revealing images of the war in Vietnam.
Keeping Up with the LeMays
By most accounts, the seeds for DASPO were sown after Army Chief of Staff Gen. George Decker walked out of a 1962 briefing at either the Pentagon or the White House, having been seriously upstaged by a slickly produced presentation of U.S. Air Force activities shown by Air Force Chief of Staff (and notorious showboat) Gen. Curtis LeMay. Up to that point, the Army had been content to use mostly antiquated World War II-era 4x5 Speed Graphic cameras and the like for their briefing materials. But after the meeting, Decker reportedly gathered his staff and asked, "Why can't we do that?"
With authorization from President Kennedy himself, Pentagon brass charged Maj. Arthur A. Jones with designing and organizing a brand-new command to provide high-quality photographs and documentary film to the Joint Chiefs, the Pentagon staff, and Congress.
Headquartered first at the Army Pictorial Center on the former Paramount Pictures lot in Astoria, Queens, and later moved to the U.S. Army Photographic Agency at the Pentagon, the command was organized into three detachments: DASPO CONUS (Continental United States), DASPO Panama, and DASPO Pacific. The job of the DASPO teams was to capture photographs and films of front-line combat action, troop mobilizations, and military equipment.
"From the very beginning it was made clear for DASPO personnel there'd be no coverage of parades, no change-of-command ceremonies, no marching bands. You are going to shoot documentaries, training films, and you're going to cover combat. You are not going to be a public information unit," explained Bill San Hamel, DASPO Pacific's OIC from 1967-69, at an early November roundtable of DASPO veterans at the National Archives in Washington, D.C.
DASPO photographers were free to operate with nearly unlimited access and take their orders directly from the Army Chief of Staff. San Hamel quoted Gen. Decker's very specific list of demands: "He wanted a Rapid Response Team and he insisted it be full-time. He wanted teams to be highly mobile, unencumbered by security clearances and written travel orders. He wanted every member to have a secret or top-secret clearance. He wanted us to have the best equipment. He wanted us TDY into the countries they operated in, and we were told to 'live on the economy.' "
While DASPO CONUS (which was capable of being sent anywhere in the world) and DASPO Panama both covered many historically significant events, the Pacific Detachment covered the war.
Based at Fort Shafter on Oahu, DASPO Pacific was divided into three teams: Team Alpha in South Korea, Team Bravo in Thailand, and Team Charlie in South Vietnam.
"I was excited to learn that, because I had graduated at the top of my class at the Army cinematography school at Fort Monmouth, I was to receive a prestigious assignment to a unit in Hawaii," DASPO still photographer Carl Hanson recalled. "My thoughts turned to sun, surf, girls. Not until after I got there was I informed I'd be spending a large part of my next two-and-a-half years in Vietnam."
Composed of both lifers and green recruits, enlistees and draftees alike, it would seem the only thing DASPO personnel had in common was that they had nothing in common. Few DASPO men seem to have followed the same path to the unit.
Something of a "talent-scout" approach was used to populate the unit, as staff began to stock the command with sound specialists, motion picture cameramen, and still photographers. Arthur Jones—now a Lt. Colonel—cherry-picked from the staff at the Army Pictorial Center and nabbed the best students from the Army Signal School at Fort Monmouth. In addition, he and his staff kept an eye out for incoming draftees with backgrounds that matched the unit's mission.
Van Hamel, for example, had worked for three years for a movie studio in Chicago before entering the Officers Communication Course at Fort Gordon. Famed DASPO photographer Dick Durrance had already been published in National Geographic when he was drafted. DASPO alum Bryan Grigsby, who was drafted while still a television production student at the University of Florida, was headed to the White House Communications Agency as an audio specialist when he was rerouted to Hawaii. Veteran photographer Peter "Rupy" Ruplenas had seen combat through his lens as a Signal Corps photographer in World War II and the Korean War before volunteering his considerable expertise to DASPO in 1966.
When asked how he was selected for DASPO, retired Hollywood cameraman Stewart Barbee, who served as a DASPO motion picture cameraman from 1969-70, swears, "I still don't know."
"I was originally ordered to Taiwan. God knows what I was going to do there, but I knew it was a civilian status job and I was going to live in the Grand Hotel there," he recalled. "I was on thirty-day leave in California when a guy came over from the Presidio on a motorcycle with a telegram ordering me to stay put and await further orders. I waited another ten days before receiving new orders to report to DASPO. I was told years later at our first reunion there had been someone at the Pentagon in charge of steering all of our careers in exactly that way."
Operating from "The Villa"
From their headquarters at Fort Shafter, DASPO Pacific rotated teams into South Vietnam on TDY orders for three-month tours. Teams usually consisted of a commanding officer, a non-commissioned officer, and between ten and eighteen enlisted sound specialists, motion picture cameramen, and still photographers.
Although there were many other units of military photographers operating in-country, DASPO worked much differently than conventional combat photography units such as the 221st Signal Company, whose personnel served standard one-year deployments in-country, and covered only their own unit's activities.
Instead, Team Charlie operated out of a rented three-story gated house in Saigon's Gia Dinh neighborhood, just a two-minute drive from Tan Son Nhut Airbase. Dubbed "The Villa," the compound served as both office and barracks. From there, two- and three-man teams would typically rotate into the field, with a new team departing on a new assignment upon the return of a previous one.
"When on assignment around the country, our teams would operate much like the civilian journalists covering the war. We flew out of nearby Tan Son Nhut whenever possible," recalled Grigsby. "Most projects were set up by our team OIC, who would contact the host unit we were planning to photograph via an erratic and generally flaky long-distance telephone system."
"My job every other day was to go into what we called the Villa's 'War Room' where I was briefed on what was going on in each of the four Corps," San Hamel explained. "I would note where there was action brewing. I would then assemble a team and that's where they would go."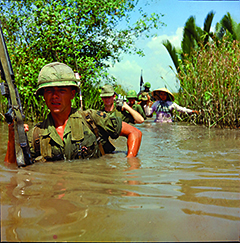 While it is true that being outside the official chain of command in South Vietnam allowed them to travel on the hoof much like their civilian journalist counterparts (they were even authorized to wear civilian clothes), the big difference between DASPO shooters and the press corps was the level of access to the action they had. Once they arrived on scene, DASPO photographers would effectively become part of the unit they were covering, enduring what the unit endured, and staying with it until the mission ended or they ran out of film.
DASPO photographers followed combat units into every type of terrain in Vietnam: the jungle, the Highlands, urban combat, swamp, riverine, and rice paddy, capturing the events of the war from a grunt's-eye view. In this way, their photos recorded for posterity the action at Khe Sanh, Dak To, the Ia Drang Valley, and countless other operations, large and small.
Much of the material they shot was classified at the time. And while the majority of what DASPO photographers shot was intended either for analysis or for use in combat training, about a quarter of their material was subsequently offered up for publication in newspapers, magazines, and on television networks during and after the war.
But not all DASPO assignments involved shooting combat operations. Teams also documented the work of Medical Civic Action Teams (MedCat) and other civil outreach projects benefiting Vietnamese civilians. They also filmed equipment in the field and shot Army training films.
Both Hanson and Barbee separately described the toughest assignment by far either man had to work on: the months-long shooting of a 1969 training film for use by Army Mortuary Affairs. The experience, shot at a time when 320 bodies a week were passing through Graves Registration in Saigon, took a tremendous toll on all involved in the shooting.
"I've never seen the photographs I took, nor Barbee's film, nor do I ever want to," said Hanson.
Although they would later be issued Hasselblad 500 series cameras, the workhorse camera used in the beginning by DASPO's still photographers was the medium-format Rolleiflex twin-lens reflex, which used 120 film. Because their mission was to document the events of the war in the highest quality, the Rollei's large 2-1/4" negative was essential.
Durable and extremely dependable, the Rolleiflex is a tricky camera to use even under normal conditions. Its paper-backed film can be clumsy to load, and with only twelve exposures per roll, it needed to be reloaded frequently. But most troublesome was its shooting position: the photographer held the camera at waist level and looked down into the viewfinder—the last position one wants to be in with bullets whizzing by.
All of DASPO's still photographers shot color negative film, which allowed prints to be made in color or black-and-white, depending on the end use.
The motion picture cameramen faced challenges of their own. Ted Acheson, who served as a DASPO combat cameraman from 1968-69, recalled: "A still cameraman can pop up, take a shot, and drop down. A motion guy has to stand there for about ten to twelve seconds to take the picture. And then not only one picture; he has to take another picture because you've got to build a sequence of shots. So, while you're doing this you're exposing your body to incoming." Add to that the sheer weight of the equipment. In addition to the heavy Arriflex BL and ST 16mm cameras, and the Filmo 16mm combat cameras they always carried, DASPO cameramen usually hauled two tripods and a host of lighting equipment into the field as well.
Even a helmet is an impediment when your job requires you to hold a camera up to your face. So most DASPO veterans admit they simply went without. And with neither the available hands nor the luxury of carrying an ounce of unnecessary weight, DASPO personnel seldom carried weapons into the field.
"I had a .45, but very rarely cleaned it," said Robert Lafoon, a DASPO still photographer who served from 1965-68. "If I'd ever had to shoot it, I'd probably have been better off throwing it. To me it was just extra weight. I really didn't want to carry it."
"I remember guys always asking me where my weapon was," chuckled Barbee. "I'd respond, 'Do I look like I've got room to carry a weapon? Don't worry, if it gets to a point where I need to put down this camera and pick up a weapon, there will be plenty available.' "
DASPO photographers did not develop their own film. The film wasn't even processed in-country, but instead packed and shipped stateside to either the Redstone Arsenal in Alabama or to the Army Pictorial Center in New York for processing and evaluation.
"[In the field] we would carefully tape the metal film cans closed and stow them in numerous pockets or in a backpack," Acheson said. "When we got back to the Villa, first thing we did was type up our captions and get the undeveloped film onto an airplane back to the States to be processed. You had to be really careful handing the film in such hot, humid conditions."
"We weren't a news agency, so turnaround wasn't as important to our work. We could afford to send our undeveloped film stateside for processing," Grigsby explained. "They'd make contact sheets which they'd send back to Hawaii for critique. It was always interesting to see which shots they chose to print, given there was no input from us."
In 1973 DASPO experienced the same postwar downsizing as the rest of the military. DASPO Pacific was closed in December of 1974, with the remaining personnel and equipment transferred to DASPO CONUS. Eventually all three DASPO detachments were consolidated into the renamed Army Special Operations Pictorial Detachment at Fort Bragg. Today the Army's 55th Combat Camera Company at Fort Meade carries out the mission that began with the formation of DASPO in 1962.
Only about 200 soldier-photographers—325, if you include the officers and the film editors back at the Pentagon—served in DASPO during its brief history. Given both the quality and importance of their work, along with the vast latitude they were given to creatively navigate obstacles to their mission, it's no surprise that most continued on to prestigious careers in the military and in civilian life: photojournalists, advertising executives, Smithsonian and National Geographic photographers, Hollywood special effects cameramen, a CNN correspondent.
In the intervening years, some reconnected to form the DASPO Combat Photographers Association and began holding annual reunions. They've also established an archive of their work at Texas Tech University's Vietnam Center, along with a scholarship in honor of the two DASPO members killed in the line of duty: Kermit Yoho and Charles "Rick" Rein.
Although the original purpose of DASPO was simply to provide the Pentagon with the best images possible for appraising the events of a war waged half a world away, the extraordinary images DASPO shooters captured have gone on to live second and third lives. First as a visual accompaniment to news reports of the day, providing the American public with an undiluted glimpse of the realities of what was happening in Vietnam. And then again as historical artifacts: a permanent, powerful visual record of the war preserved for future generations.